Rosa Pacheco receives the 2021 Gila Gem and Mineral Scholarship CONGRATULATIONS!!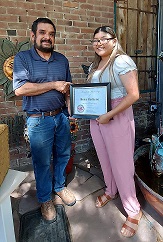 The Gila County Gem and Mineral Society has awarded our annual scholarship to Rosa Pacheco. Rosa is a very deserving young student. She will be attending Northern Arizona University to study Biomedical Science. She finished high school with a 3.8 GPA. While attending high school, she also attended CVIT where she earned her certificate in the Medical Assistant Program.
It was not easy for her though. Rosa lost her mother during her sophomore year and was faced with taking care of her father with stage 4 chronic kidney failure. Then, she found out that she had diabetes. Caring for her family while dealing with her own health issues only proves her resolve for dealing with tough issues. She also cared for her neighbor with house chores, running errands and just watching Family Feud with her.
Our scholarship is not just awarded to a student that is going into a STEM related field of study, but also someone that is involved in community service. Giving up part of her social life during her high school years had to be hard, but the sacrifices she made for her family and friends exemplifies what our scholarship is about. Some of the words that were written to describe her were, "diligence, quiet resolve, inner determination, solid work ethic, not afraid of work, a great student, a great kid and someone with great promise." We would like to add to that, she is also a great role model.
Rosa wrote in her essay, "Mom always reminded my sibling and me of the importance of school and the irreplaceable knowledge that you gain from college." Rosa, your Dad and your siblings have been blessed by you and your mom is proudly watching you accomplish your dreams.
She also wrote, "No heartache, disability or misfortune will keep me from reaching my dreams. Besides, my luck has to start somewhere and I won't stop until I get there." From this and what was written about her, we believe this to be true about her. The old saying absolutely rings true in her case, "hard work does pay off", and she is already living proof of that possibility. Congratulation and Go Lumberjacks!!![/vc_column_text][/vc_column][/vc_row]
2022 Scholarship Winner
Amariz Ochoa Attends NAU
As summer comes to an end and the students are going back to school, NAU is gearing up for the fall semester. The Gila County Gem and Mineral Society is proud to have awarded a $500 scholarship to an incoming Lumberjack named Amariz Ochoa, a very smart one at that. Amariz graduated at the top of her class. Amariz made being Valedictorian of Hayden High School look easy. She graduated with a remarkable 4.0 GPA.
Amariz will be majoring in Environmental Engineering and Spanish with a minor in Forestry. Her passion is to help the Earth become a beautiful, clean place again. Forestry will help her learn about the land and all of its inhabitants. She chose Spanish as her second major because half of her family only speaks Spanish also because this will give her the opportunity to do her internship abroad.
Amariz had many recognitions during her high school years. She was recognized as being proficient on NWEA in reading, Math, Geometry, and Algebra II. She was on the honor roll all 4 years of high school. She got 1st place at the Gila County Science Fair as a freshman in behavioral and social sciences and 3rd place as a sophomore in biological sciences. She received a Certificate of Arizona Technical Skills Standards-Arizona Career and Technical Education Quality Commission as a Junior. She was top student as a freshman, sophomore, junior and of course valedictorian of her class. As a Sophomore, she was recognized for being the top student in Advanced Spanish. There were too many recognitions to list them all.
While maintaining a 4.0 GPA throughout high school, she managed to be involved in sports as well. She played Volleyball, Basketball and Softball. She was varsity in all 3 sports. As a sophomore, she made Second Team All-Region. In her Junior year, she made Second Team All-Region her Junior year. As a Senior, she was captain of the Volleyball team.
She also held several offices. She was Treasurer as a sophomore, Vice-President of her junior class, Representative of her senior class, Vice-President of the Business Club and Vice-President of the Athletic Club. Being of service is in her nature. Some of the community service she has done was cleaning the church and school. She helped run the concession stands. She helped set up photoshoots for Pioneer Days. She helped with the blood drive. She also taught Sunday School among other things.
Her humility is shown through what she wrote in her personal statement. She wrote, "One day I will look into a crowd and answer the question, 'who helped you achieve your career goals' and I will be able to say that I couldn't have done it without the help from local scholarships such as the Gila Gem and Mineral Society." She goes on the write," Whether I am awarded this scholarship or not, I will strive for greatness in all of my classes and give back to the community." Amariz is an example of how to be a community leader from the "get go." Good Luck to NAU's new Lumberjack.
2022 Scholarship Winner
Good Luck Jodi King
With the school year about to start for NAU, the Gila County Gem and Mineral Society would like to wish Jodi King Good Luck. She received one of our $500 scholarships that was awarded to 2 outstanding seniors in our area. Jodi was exactly that, an outstanding Senior from San Carlos High School.
Jodi has already started her studies during the summer by attending the STAR program. This is how motivated she is. She is going to be majoring in nursing. Being prepared is something that is in her nature. She attended Nizhoni College Prep after her Freshman and Sophomore year.
She is a very well rounded individual. She was an active participant in the Automation/Robotics class and Skills USA for 3 years and went to Robotics State in 2019 and 2020. She went to state for Cross Country in 2019 and 2021. She also went to state in 2019 for Track and Field. She also served as manager for the boys' basketball team when she was not in sports herself. A starving college student is something she will not be because she also completed 2 years of the Culinary Arts program. Be careful about letting that secret out or you might be cooking for the entire dorm.
There are so many good things to say about Jodi. Some things that were said about her by her counselor and teacher were that she has a genuine spirit of kindness and compassion. That she has both the means and determination to overcome the many obstacles and challenges youth face on this Apache reservation. This is very evident in what she said about herself. She wrote about being raised in poverty by her mother who is a cancer survivor. The love for her culture is prevalent in the way she started her personal essay. "Dago'tee" which means "Hello" in her native language of Apache.
"I know that I can do what it will take to live a different lifestyle while attending school" is something that she wrote, but her lifestyle might be something that other people can learn from as well. She has the "mindset of returning home and to help my people." "I will educate the younger generation of how they can achieve their goals and dreams." She goes on to write that she believes that she is a genuine role-model that will continue to educate the future. The Gem and Mineral Society knows that you are that role-model. "Ahii yeh", "Thank You" Jodi for setting the example of the determination it takes to get where you are. See you on May 6th, 2026 with your diploma in hand. Go Lumberjacks!!!
2019 Scholarship Winner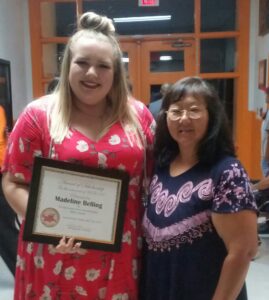 Madeline Belling
The Gila County Gem and Mineral Society is a 501(c)3 non-profit organization. We strive to educate our community on the gems and minerals that are found in our area through hands on activities such as "rock hounding." We also put on the Gem and Mineral show every year in January where we bring different activities and vendors to the Gila County Fair grounds so the public can learn more about gems and minerals.
This year, we are awarding a scholarship to a 2019 graduating student from the Cobre Valley area including Globe, Miami, Superior, Ray, San Carlos, Young and home schooled seniors in these areas. In reviewing the applications, our decision was based on community involvement, leadership qualities, goal orientation and grade point average. The applicant must be going into a STEM related field of study.
The applicant we chose is very involved in the FFA program where she has received many awards, she is involved in church groups, she is involved in community programs and she has maintained a 3.69 Grade Point Average. She has achieved all this while running her own businesses. She will be attending the University of Arizona where she will major in Veterinary Science and minor in Agricultural Education. She has all the qualities that will make her a great asset and leader to any community she lives in. Her desire to work in a rural community such as Cobre Valley only made our decision that much easier. It is with great honor that we award this year's scholarship to Madeline Belling. Congratulations Madeline on being the Gila County Gem and Mineral Society's 2019 scholarship recipient.
Presenting the scholarship is the President of the Gila County Gem and Mineral Society – Jodi Brewster