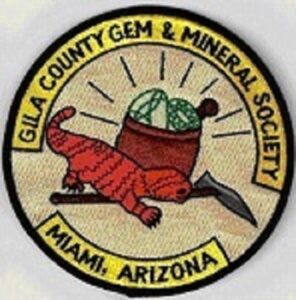 Come join us for the 66th annual Gila County Gem and Mineral Show January 12th, 13th and 14th, 2024 The show will be held at the Gila County Fairgrounds. This will be a fun time for rock and mineral collectors, fossil hobbyist and kids of all ages. The show runs from 9am to 5pm Friday and Saturday and 10am to 4pm Sunday. Students and children are free and adults are $3.00 per person.
Click Flyer for Large Printable Version
There will be over 40 specimen display cases; interesting demonstrations; numerous vendors displaying and selling their wares. Lapidary equipment, jewelry, books, mineral specimens, copper art and much more will be offered. There will also be demonstrations of silversmithing, wire wrapping, and more!
FRIDAY OPENING CEREMONY PROVIDED BY THE GLOBE JROTC COLOR GUARD
Globe-Miami Elks Lodge # 489 will be there ready to take your food order. Breakfast Burritos will be available to order in the morning. Their menu offers a variety to choose from that will satisfy everyone.
Vendor space is limited. For more information please contact our Vendor Chairman, Jerry Kastner at 520-401-6715 or [email protected]
And don't miss our additional activities room filled with adventure and fun for everyone, to include:
The Fossil and Gem Pit: Your child can dig through our sand pits full of fossils and gem and minerals stones and try to find a treasure (Small Fee)
Duck Pond: Catch a duck and see what prize you won. (Small Fee)
And more activities to do (Small Fee)
Presentation for all ages:

JOHN O'BRIEN – WHAT IS A FOSSIL @ 1PM FRIDAY, SATURDAY & SUNDAY

Demonstrators:

LAPIDARY – TBA
WIRE WRAPPING JEWELRY – ALL DAY FRI, SAT & SUN
NATHAN SCHOLTEND – STONE CARVING WITH JADE – ALL DAY FRI, SAT & SUN