Come join us for the 65th annual Gila County Gem and Mineral Show! The show will be held indoors at the Gila County Fairgrounds. January 13th, 14th & 15th 2023. This will be a fun time for rock and mineral collectors, fossil hobbyist and kids of all ages. The show runs from 9am to 5pm Friday and Saturday and 10am to 4pm Sunday. Students and children are free and Adults are $3 per person or $5 per couple. Click Here for more…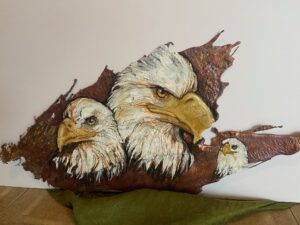 This beautiful hand painted treasure titled "Eyes on Freedom" was created by Marianne Collins to be raffled off in support of the Gila County Gem & Mineral Society. The artist values this painting at $1,000.00, it is painted on a roughly 28X15 inch locally made copper splash in acrylic paints.
It will be on display at the FLAGG Foundation gem and mineral show at Mesa Community College on January 6th, 7th & 8th 2023, and at our 65th Annual Gem & Mineral Show at the Gila County Fairgrounds January 13th, 14th &15th. Raffle tickets will be 1ticket for $20.00 and 6 tickets for $100.00. The winning ticket will be drawn on Sunday, January 15, 2023 at 3:00 PM and the winner will be notified by phone and must collect the painting in person. It can be picked up at the show or arrangements can be made to pick it up at our clubhouse located at 413 Live Oak St. Miami, AZ 85539.
Tickets can be purchased at either of the 2 shows or at the clubhouse on Thursday afternoons from 1 PM to 3 PM and 5 PM to 8 PM as well.