Calling all 2024 Seniors from the Globe, Miami, Kearny, Hayden, Winkelman, Ray, San Carlos, Superior, Payson or Young This includes home schooled Seniors from these areas.

Gila County Gem & Mineral Society would like to help a student with preparing for college, university or trade school. We are offering two scholarship of $500. This can help with school supplies, workshop fees or registration fees.

We ask that the applicant be going into any STEM related field.

If any question does not apply to you, please put N/A in the space. When completed, please email your application and all the required documentation in one PDF file to:WILL BE ANNOUNCED

Application must be filled out by applicant.

Please type or print your answers below the application or on a separate sheet of paper if necessary.

If the application is illegible it will be returned to you.

Click here for the application (WILL BE ANNOUNCED)
Application due date is (WILL BE ANNOUNCED)
2023 SCHOLARSHIP WINNERS
Congratulation Ayden Ormand!!!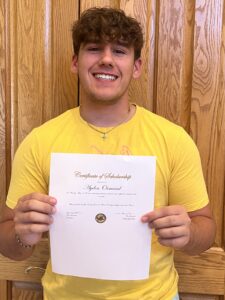 The Gila County Gem and Mineral Society would like to congratulate Ayden Ormand on being chosen to receive one of our scholarships. Ayden is a student at Payson High School. He has a 3.84 GPA currently and is expecting to improve this by graduation. He is involved in 3 sports as well as being an excellent community volunteer. He plans on attending Northern Arizona University to study civil and mechanical engineering.
Teamwork and being humble is something that is evident in his application. Thanking the society for offering the scholarship to not only him, but to the other applicants shows this. The peer counseling that he has done is something that takes a special person. It is something that can be developed, but it seems to come natural to him. One of the reference letters states, "It did not take long for me to realize how special this young man is." It goes on to state things like, his performance is solid and his impact on others is profound. He is the first to step up to organize groups, support someone who needs help and speaks up for the silent- never expecting anything in return. Being a motivator at an early age is evident from another letter that stated as a 4 year-old, he coached the babysitter to "get your head in the game."
His work ethics are exemplary. Being employed and still making time to do volunteer work, going to school and still being in 3 different sports is impressive, not to mention being an AIA Scholar in three sports. Football, Wrestling and Baseball are demanding sports and he was up for the task. Another letter states, "when you step into the weight room, you have a clear purpose and are self-motivated to improve every day." NAU is going to be blessed to have him as a student and hopefully member of the club baseball team. His leadership skills combined with his experience and compassion will be to his advantage when trying out for the club baseball team. Good Luck on making the team!!!
In his essay, he states, "I've learned what it means to put others before myself, to respect everyone I come in contact with, to appreciate all the help that has been given to me and so much more." He highly values community involvement, civic responsibility and education. Ayden has volunteered in the community at the Senior Center, the Mongollon Sporting Association and doing peer counseling for K-8 students. He was a youth baseball, football and wrestling camp group instructional leader. He volunteers helping move elderly people. He participated in the Payson Hwy 87, Payson Cemetery, Tyler Parkway and the yearly softball field cleanup projects, as well as the annual food drive.
The Gila County Gem and Mineral Society Scholarship committee chose an exceptional student to receive this scholarship. So, "Chop-Chop" and "Strike the wood with full force" because "Lumberjacks work their axes off!!!" Go Lumberjacks!!!
Congratulation Grace Foxworth!!!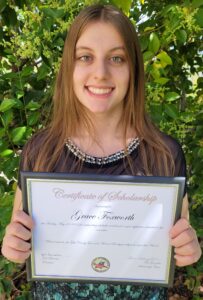 The Gila County Gem and Mineral Society would like to congratulate Grace Foxworth on being selected as one of our scholarship recipients. Grace is a 2023 Globe High School graduate. She will be attending NAU where her field of study will be Environmental Science. Grace maintained a GPA of 4.190 and a 4.0 in dual enrollment classes at EAC that makes her one of the few students this year who will earn an Associate's Degree in General Studies while earning a high school diploma. Throughout high school she also has been awarded scholastic honors including National Honor Society, Phi Theta Kappa Honor Society Inductee, Principal's Honor Roll, Top 3 Academic Student Award and others.
Some of the extra-curricular activities that she has been involved with are GHS Girls Varsity Soccer at which she lettered all four years as well as getting two Sportsmanship Awards in 2019 and 2023. She is an American Youth Soccer Organization Participant. From 2020 – 2022, she was a part of the Anti-Tobacco Club. She was also a GHS Link Crew Club member. In 2020, she received the Good Student Award.
Showing the maturity of her wisdom, she states that she views her education as "the cornerstone of her future success." Getting a Perfect Attendance Award her senior year shows the perseverance it takes to create that "cornerstone." Giving back to her community is vital to her as it is evidenced in the amount of volunteer hours that she has put in over the years. She has worked on the beautification around her high school and in the community. She has volunteered at the High Desert Humane Society, STEM Fest, Blood Drives, organizing and participating in the "Step Up Day". Thank You!!!
Grace's long term goal is to come back to Globe and work for a local mine as a fourth generation miner. One of NAU's slogans is "a Lumberjack will always pay you back." Thank you for giving back to your community. We are honored to award a scholarship to Grace. Congratulations and Go Lumberjacks!!!