Calling all 2023 Seniors from the Globe, Miami, Kearny, Hayden, Winkelman, Ray, San Carlos, Superior or Young. This includes home schooled Seniors from these areas.
Gila County Gem & Mineral Society would like to help a student with preparing for college, university or trade school. We are offering two scholarship of $500. This can help with school supplies, workshop fees or registration fees.
We ask that the applicant be going into any STEM related field.
If any question does not apply to you, please put N/A in the space. When completed, please email your application and all the required documentation in one PDF file to: [email protected]
Application must be filled out by applicant.
Please type or print your answers below the application or on a separate sheet of paper if necessary.
If the application is illegible it will be returned to you.
Click here for the application
Application due date is May 12th 2023

Rosa Pacheco receives the 2021 Gila Gem and Mineral Scholarship CONGRATULATIONS!!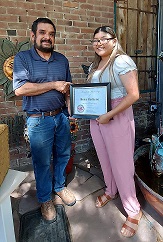 The Gila County Gem and Mineral Society has awarded our annual scholarship to Rosa Pacheco. Rosa is a very deserving young student. She will be attending Northern Arizona University to study Biomedical Science. She finished high school with a 3.8 GPA. While attending high school, she also attended CVIT where she earned her certificate in the Medical Assistant Program.
It was not easy for her though. Rosa lost her mother during her sophomore year and was faced with taking care of her father with stage 4 chronic kidney failure. Then, she found out that she had diabetes. Caring for her family while dealing with her own health issues only proves her resolve for dealing with tough issues. She also cared for her neighbor with house chores, running errands and just watching Family Feud with her.
Our scholarship is not just awarded to a student that is going into a STEM related field of study, but also someone that is involved in community service. Giving up part of her social life during her high school years had to be hard, but the sacrifices she made for her family and friends exemplifies what our scholarship is about. Some of the words that were written to describe her were, "diligence, quiet resolve, inner determination, solid work ethic, not afraid of work, a great student, a great kid and someone with great promise." We would like to add to that, she is also a great role model.
Rosa wrote in her essay, "Mom always reminded my sibling and me of the importance of school and the irreplaceable knowledge that you gain from college." Rosa, your Dad and your siblings have been blessed by you and your mom is proudly watching you accomplish your dreams.
She also wrote, "No heartache, disability or misfortune will keep me from reaching my dreams. Besides, my luck has to start somewhere and I won't stop until I get there." From this and what was written about her, we believe this to be true about her. The old saying absolutely rings true in her case, "hard work does pay off", and she is already living proof of that possibility. Congratulation and Go Lumberjacks!!!